OVERVIEW
· Sleep better with rapid air-based cooling, warming, and sweat-drying comfort right in your bed.
· Perfect for couples with different sleep temperature preferences – Dual Zone control allows independent cooling/warming on each half of the bed!
· Works on any brand mattress and any type bed frame, including adjustable beds.
· Powered air cooling rapidly wicks away body heat and moisture for fast cooling relief, great solution for hot sleepers, night sweats and hot flashes.
· Heat mode gives bedding toasty "just out of the dryer" warmth in seconds, great therapy for cold feet and safer alternative to electric blankets while warming bed 15x faster.
· Biorhythm sleep technology gets you deeper, more restorative sleep with personalized temperature schedules that automatically adjust throughout the night.
· Dual Zone System for Couples includes 2 BedJet base units, 2 wireless LCD screen remotes and a Dual Zone Cloud Sheet.
Guaranteed to work on any size bed, any brand mattress, and any type of bedframe or your money back
Installs in minutes with no tools. BedJet is a powerful sleep improvement solution with clinically proven results, that will also keep you cozy and comfortable all night long. You won't even know it's there with the bed made.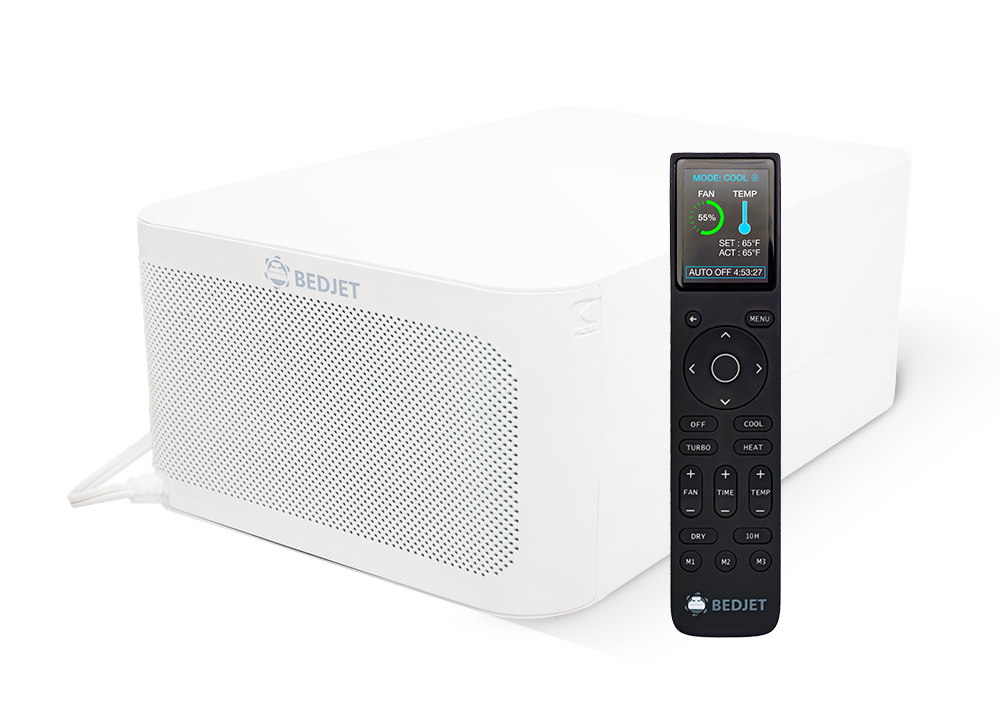 · 30% smaller and sleeker design with same powerful performance
· Silky quiet air-based system keeps you sweat-free all night
· Fits under beds with only 6" of clearance
· Regulated temperature between 66°F and 104°F*
· Color screen remote control for all functions
· Bluetooth app available but not required, so you can leave your smartphone off at night
· WiFi chip included
Better Sleep with BedJet = Better You
BedJet's unique air-based cooling and warming technology is the most powerful and rapid-acting in the industry. Only BedJet doesn't change the feel of your mattress, with no stiff mattress pads, no mattress toppers, no wires, no leaky tubes of water to sleep on, and no EMF in the bed.
The Dual Zone BedJet System works with your existing bedding and includes a Dual Zone Cloud Sheet for the very best cooling performance. The two BedJet air nozzles connect directly into separate air distribution zones in the Cloud Sheet.
Your mattress locks in heat and body moisture. BedJet gets rid of it, eliminating night sweats.
"Cooling technology" mattresses barely move the needle on comfort for hot sleepers. BedJet is the most powerful temperature regulating and sweat-drying system available anywhere for beds. BedJet provides instant relief from night sweats, hot flashes and stuffy memory foam mattresses.
It's not just the temperature, it's the humidity! Cooling mattresses and water-based hydronic systems can't pull sweat and heat out of the bed like BedJet's air technology.
BedJet 3 Dual Zone Bundle
End the nighttime battle over the bedroom thermostat for couples. The BedJet Dual Zone bundle gives you half the bed cooled like Alaska and the other half warm like Hawaii. Our patented super soft Cloud Sheet lays on top of you with dual zone air flow chambers, so there's absolutely nothing separating you from your partner. Cuddle more and sleep better—we're saving marriages!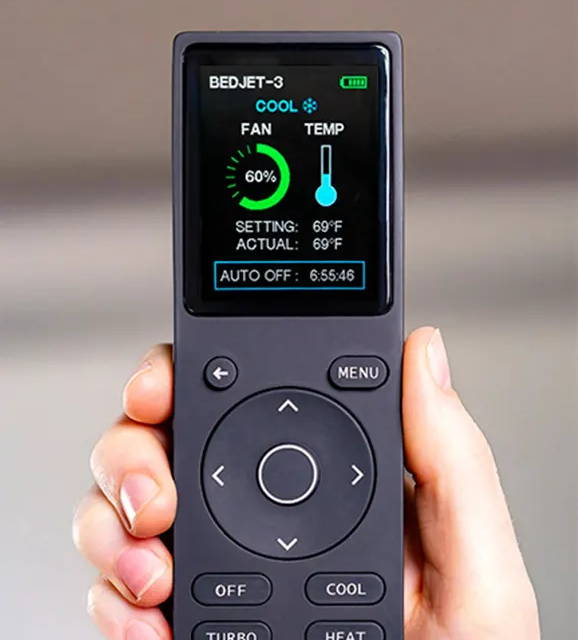 BedJet 3 Remote Control
Smartphone apps are great but we know some prefer to turn their phones completely off at night. We engineered BedJet 3 with the world's most advanced remote control for a sleep product, so you can enjoy 100% of all its great features without a smartphone app.
Control your temperature by degree, adjust air flow settings, auto-shutoff times and program biorhythm sleep temperatures all with real time feedback from the color screen. For dual-zone systems, now both sides of the bed can be controlled from a single remote. Back lit keys mean no fumbling around in the dark for late night adjustments and updateable firmware means your BedJet 3 will never become obsolete.
Stay asleep all night long with custom biorhythm sleep technology
BedJet was the first company to introduce biorhythm sleep technology, enabling you to pre-program personalized cooling and warming settings for every hour of the night.
If you toss and turn all night because you're sweating one hour and freezing the next, you'll sleep better with BedJet's biorhythm feature—no more waking up to adjust a thermostat. You can even obsolete your noisy alarm clock with a BedJet temperature wake-up trigger.
Dual Zone Size Guide
Not sure what size Dual Zone bundle to get, or whether your bed is a California King or Split King?
We've demystified our Dual Zone bundles with our handy guide to help you find the exact BedJet sleep solution you need. BedJet 3 is also adjustable bed approved. Click the image to enlarge.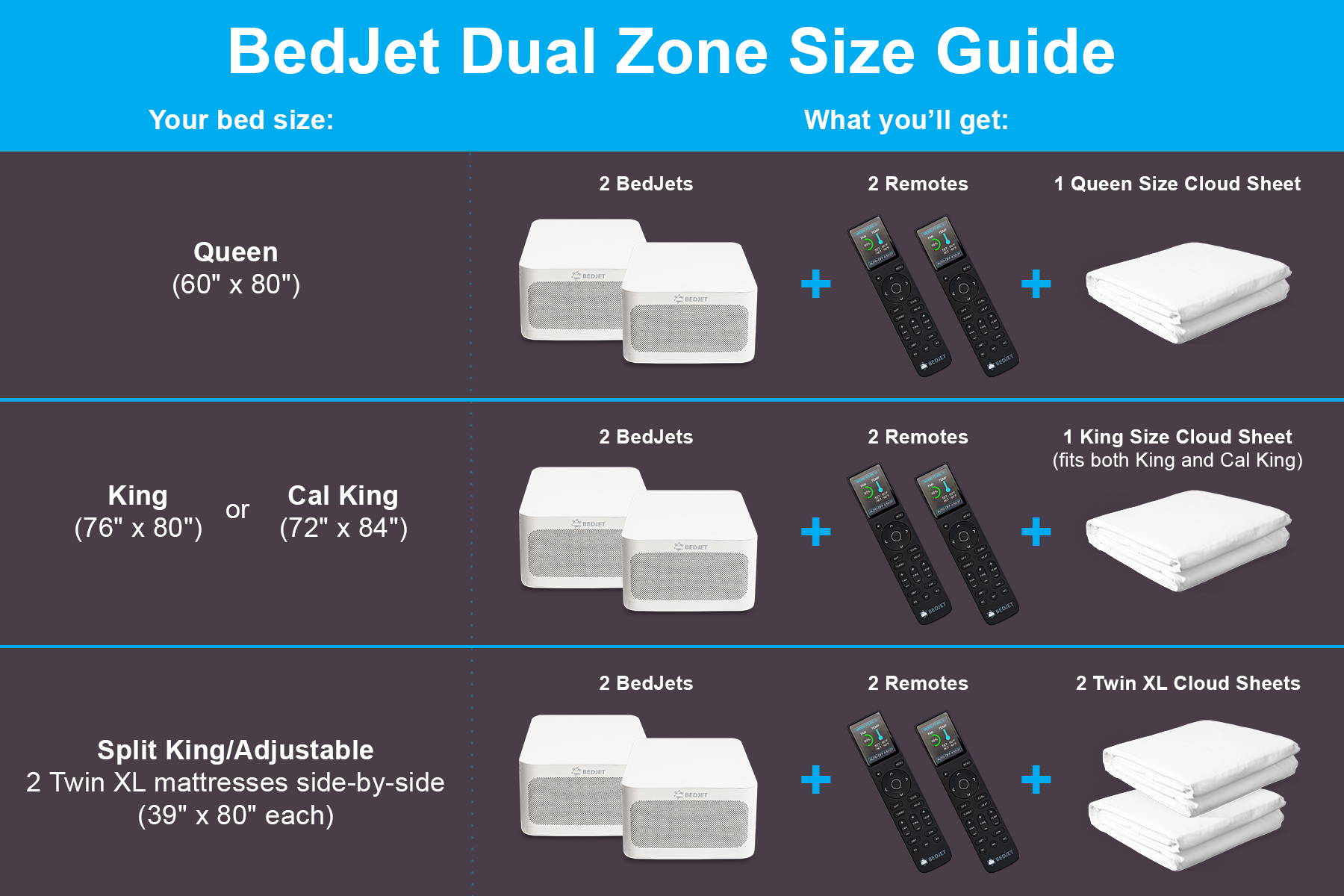 Save Money on Utilities: BedJet Pays for Itself!
Why cool or warm the whole house at night when all that matters is the temperature of your bed? BedJet's silky-quiet cooling and warming will keep you at just the right sleep temperature all night. Many BedJet owners find they can adjust their home thermostat by 2 to 4°F at night and sleep even better than before, saving them big bucks on utilities.
Check out the video to hear how Josh saved nearly $450 on annual electricity costs thanks to his BedJet, paying for itself in just one year!
Product Details
Some like it hot. Some need it cool. Some want to stop night sweats and others need different sleep temperatures than their partners. That's why everyone loves their BedJet! Using advanced technology the BedJet sends a gentle and quiet stream of air directly into your bed for powerful cooling and warming comfort. Our Dual Zone bundle provides independent cooling and warming to each half of the bed with two BedJet machines, two color screen remote controls, and our Dual Zone Cloud Sheet. Stop fighting over the thermostat with your partner and start sleeping better together!
BedJet 3 uses sleep inducing biorhythm temperature technology to help you go to sleep faster, stay asleep longer and wake up more refreshed. Program custom heating/cooling profiles for every hour of the night and obsolete your noisy alarm clock with a BedJet 3 temperature wake-up setting.
Find out why BedJet is the #1 customer recommended cooling and heating product for beds in America. Read the life changing customer reviews
BedJet cooling is awesome relief for stuffy bedrooms, hot sleepers, night sweats and hot flashes. Cooling mode power ventilates your bed, using room temperature air to wick out body heat and body moisture nearly instantly, is felt within 10 seconds. NOTE: BedJet is not an air conditioner and not a substitute for zero air conditioning in extreme heat (80 degree+) bedrooms. Room temp needs to be below 79 degrees for best cooling.
Night sweat management mode is proven to reduce body moisture to keep you dry and comfortable
Powerful warming makes cold feet a thing of the past. Forget bundling up with heavy pajamas for chilly winter beds and give your bedding that toasty hot sauna feeling in just seconds.
Program thermostat regulated bed temperature by degree, from 66 to 104 degrees.
Dual zone temperature upgrade available for independent cooling/warming of each half of the bed.
Save money on utilities—why heat/cool the whole house vs. just your bed?
No wires, no tubes, no electricity in the bed and no mattress pads to sleep on top of, no water to leak, lifetime washable air filter
Fits underneath any bed with 6" space, side rail clearance only needs to be 3.5", adjustable bed approved
60-day love it or return it guarantee, free return shipping (USA), fast 100% refunds with no restocking fees
Buy now and find your own perfect sleep temperature. Fall asleep faster, stay asleep longer and wake up more refreshed with BedJet temperature control.
What's included: 2 BedJet 3 units with attachment assembly to bed, 2 color screen remote controls, and a Dual Zone Cloud Sheet. BedJet is ETL listed to UL Electric Appliance Safety Standards. Free Smartphone app on Google Play and iTunes App store.
FREE SHIPPING for continental United States.
Free shipping is not available to International customers, please add to shopping cart and enter your shipping address and shipping cost will be calculated automatically. Shipping cost does not include import duties and customs fees specific to your country.
2 year limited warranty.