Overview


Why LOW Price?




Over 147 mattress department stores announced closings nationwide. Stations are reporting massive online clearance discounts! I just got a brand new box mattress with all the bells and whistles for pennies Just paying it forward
What Is the Grid?
An instantly adapting and rebounding comfort layer made from a super-stretchy material we call GelFlex. (It's in all of our mattresses and we're pretty sure you're gonna love it.)
Is the Bed Soft or Firm?
Trick question! It's both. Through the magic of physics, the Grid's columns give way under shoulders and hips but remain supportive for the back and legs.
What Does the Grid Feel Like?
It's one of those things you've gotta experience to believe, but you can think of it as the comfort equivalent of a trust fall: buoyant, cradling, supportive, and soothing.
Will I Get Hot?
Nope. All those little squares easily let air flow and body heat escape. Plus, the GelFlex material itself doesn't retain heat, so if you want to stay cool, you can.
Is It Durable?
Also known as Hyper-Elastic Polymer, our GelFlex material effortlessly stretches and springs back, again and again. It's just one of the reasons our mattresses are backed by a 10-year warranty!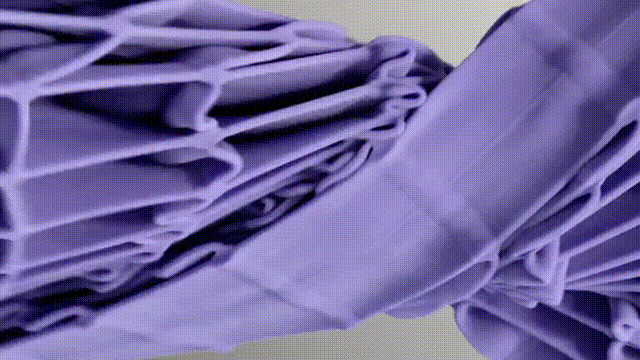 What's So Great About the Hybrid Premier 3?
It's what's on the inside that counts. Here's a look at what makes this model so special – and so comfortable!


Optimal Temperature
With over 1,400+ air channels built into the temperature-neutral Grid and breathable foams used in the base, you'll stay comfortable all night.
Instant Response
The GelFlex Grid immediately flexes to support your position and springs back into place as you readjust and move overnight.
Pressure Reduction
The soft, cushioning Grid cradles points like your hips and shoulders, with layers of foam providing extra padding.
Comfort From the Ground Up
Here's what you'll be sleeping on, night after night.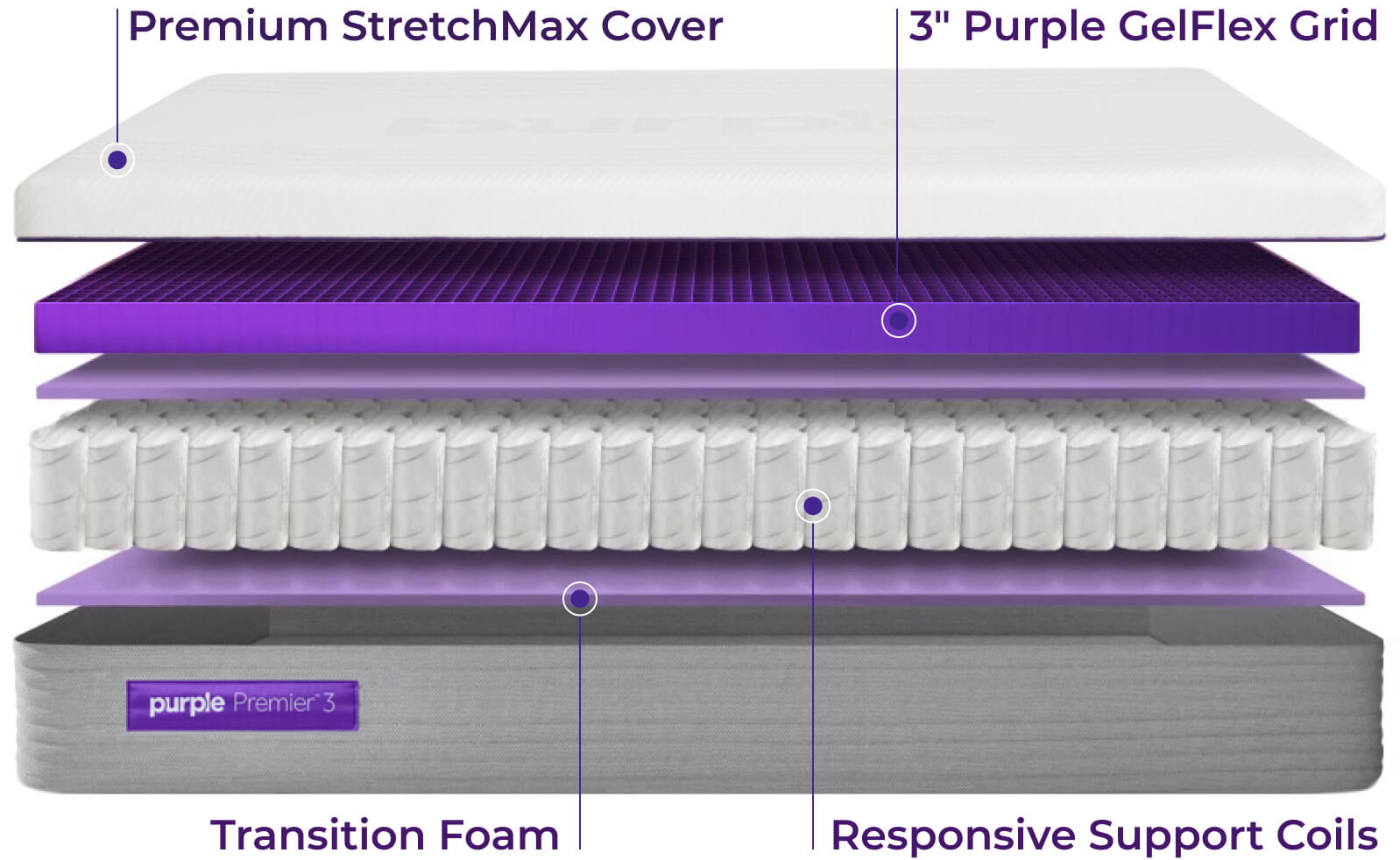 Specifications
Top Layer

3" Hyper-Elastic Polymer material in Purple Grid
Non-toxic polyethylene copolymer powder coating

Foam Layer

1" 2.0 lbs density polyurethane foam

Responsive Support Coils

7.5" Wrapped Springs

Color

White

Knit Fabric

29% Viscose, 67% Polyester, 4% Lycra (all +/- 5%)

Weight

450 g/m2 (+/- 10%)

Non-Slip Bottom

100% Polyester stitchbond with non-FR coating

Fire Retardant

Non-Toxic Knit Barrier (not chemically treated)

Basic Care

Spot clean with mild detergent (Eg: upholstery cleaner).

Twin XL

Product dimensions: 38" x 80" x12" Shipping dimensions: 44" x 16" diameter Shipping Weight: 91 lbs

Full

Product dimensions: 54" x 76" x 12" Shipping dimensions: 60" x 16" diameter Shipping Weight: 125 lbs

Queen

Product dimensions: 60" x 80" x 12" Shipping dimensions: 60" x 16" diameter Shipping Weight: 145 lbs

King

Product dimensions: 76" x 80" x 12" Shipping dimensions: 76" x 16" diameter Shipping Weight: 176 lbs
Top Layer

4" Hyper-Elastic Polymer material in Purple Grid
Non-toxic polyethylene copolymer powder coating

Foam Layer

1" 2.0 lbs density polyurethane foam

Responsive Support Coils

7.5" Wrapped Springs

Color

White

Knit Fabric

29% Viscose, 67% Polyester, 4% Lycra (all +/- 5%)

Weight

450 g/m2 (+/- 10%)

Non-Slip Bottom

100% Polyester stitchbond with non-FR coating

Fire Retardant

Non-Toxic Knit Barrier (not chemically treated)

Basic Care

Spot clean with mild detergent (Eg: upholstery cleaner).

Twin XL

Product dimensions: 38" x 80" x 13" Shipping dimensions: 44" x 16" diameter Shipping Weight: 105 lbs

Full

Product dimensions: 54" x 76" x 13" Shipping dimensions: 60" x 16" diameter Shipping Weight: 145 lbs

Queen

Product dimensions: 60" x 80" x 13" Shipping dimensions: 60" x 16" diameter Shipping Weight: 168 lbs

King

Product dimensions: 76" x 80" x 13" Shipping dimensions: 76" x 16" diameter Shipping Weight: 204 lbs